Description
DND FOOD SUPPLEMENT
The following are some of the vital ingredients in the chewing gum:
Archaebacterium and Dunaliella contain: beta-carotene – the most powerful antioxidant that is essential to our body in fighting of illness. Additionally, its ability to slow down the aging process made Arcaebacterium and Dunaliella the most valuable source of irreplaceable natural food suuplement.
Glocosamine is a vital component for our body. It accumulates in the connective tissue of the musculoskeletal system, and then our body uses it for the formation of cartilage cells, articular ligaments, nail plates, heat valves, etc. Turmeric: resent medical researches have confirmed the antibacterial and anti-inflammatory qualities of the spice, and its antiseptic effect. Turmeric is known as an antioxidant that improves the functioning of the gastrointestinal tract, reduces cholesterol, improves heart function and memory.
Ginger is considered a remarkable plant with antidote properties. It removes harmful substances from the body, relieving nausea during chemotherapy. As well as working as a natural sedative.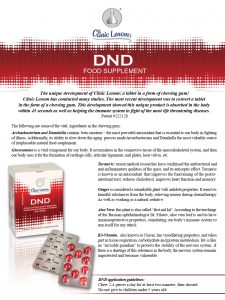 Aloe Vera: this plant is also called "first-aid kit". According to the teachings of the Russian ophthalmologist Dr. Filatov, aloe vera leaf is said to have immunoprotective properties, stimulating our body's immune system to arm itself for any attack.
B3-Vitamin, also known as Niacin, has vasodilating properties, and takes part in tissue respiration, carbohydrate and protein metabolism. B3 is like an "invisible guardian" to protects the stability of the nervous system; if there is a shortage of this substance in the body, the nervous system remains unprotected and becomes vulnerable.
The unique development of Clinic Lenom: a tablet in a form of chewing gum! Clinic Lenom has conducted many studies. The most recent development was to convert a tablet in the form of a chewing gum. This development showed this unique product is absorbed in the body within 45 seconds as well as helping the immune system to fight of the most life threatening diseases. Patent #222128
DND application guidelines: Chew 2-4 pieces a day for at least two minutes, then discard. Do nor give to children under 5 years old.