Description
SHP Skin Halo Protector
SHP Day and Night Face Creams and Body Lotions were developed on the patent formula. Patents #222127 and #222128. Main ingredients: Archaebacterium, Dunaliella, oils of the myrrh, jojoba, pomegranate seeds, sunflower; estragalus extract.
SHP cream nourishes and moisturizes skin while also having powerful antioxidant effect and binds free radicals. SHP cream tones, has a strong regenerating, anti-inflammatory and protective effect from harmful environmental factors. This cream is able to stimulate the physiological mechanisms of regeneration and activate skins immunity as well as improving micro circulation and metabolism in the skin cells.
Dunaliella and Archaebacterium contain large amounts of beta-carotene, gamma-linoleic acid, glycerin, vitamin E. Estragalus extract is called the herb of life, it contains vitamin C, E trace elements (zinc, selenium, etc.) and saponins which have the ability to kill abnormal cells.
Oil of jojoba since ancient times, has been used by the Indians for healing wounds.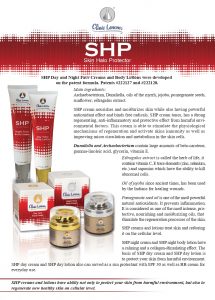 Pomegranate seed oil is one of the most powerful natural antioxidants. It prevents inflammation. It is considered as one of the most intense, protective, nourishing and moisturizing oils, that stimulate the regeneration processes of the skin.
SHP creams and lotions treat skin and restoring it on the cellular level.
SHP night cream and SHP night body lotion have a calming and a collagen-stimulating effect. The basis of SHP day cream and SHP day lotion is to protect your skin from harmful environment. SHP day cream and SHP day lotion also can served as a sun protectant with SPF 30 as well as BB cream for everyday use.
SHP creams and lotions have ability not only to protect your skin from harmful environment, but also to regenerate